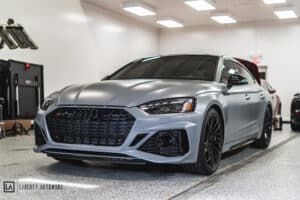 Are you getting a new car? Did you know that you can change up the looks of your car without sacrificing on 3M or XPEL paint protection film? We have a perfect solution for you. Here in Edmonton, AB, our weather doesn't go easy on our vehicle's paint. Especially when half the year, sand and rocks are purposely being put on our road. We offer something called XPEL Stealth Paint Protection Film. This cutting-edge solution offers both outstanding protection and a distinctive matte finish.
In this blog post, we'll explore the benefits of XPEL Stealth PPF. Covering how it works and why it's the ultimate choice for those seeking a seamless blend of style and protection here in Edmonton.
Understanding XPEL Stealth Paint Protection Film
XPEL Stealth is a premium-grade paint protection film designed specifically for new car owners who desire a unique and refined look. Unlike traditional glossy films (you may have heard of LLumar, 3M, or Suntek to name a few), XPEL Stealth offers a stunning matte finish that transforms the appearance of your vehicle. This advanced film combines self-healing properties with unrivaled protection. This ensures that your car's paint remains pristine while providing a stealthy, satin-like appearance.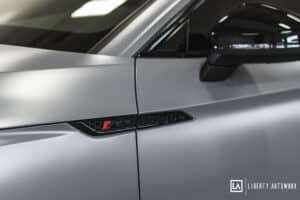 The Benefits of Matte PPF
Seamless Protection and Aesthetic Enhancement
XPEL Stealth is engineered to shield your vehicle's paint from various environmental hazards. This includes rock chips, scratches, road debris, and harsh weather conditions. Its innovative self-healing properties enable minor scratches and swirl marks to disappear with the application of heat, leaving your car looking flawless.
If you were considering getting 3M or XPEL PPF for your vehicle, this is a wonderful alternative that doesn't force you to sacrifice on protection to get a different look. It also serves as a wonderful alternative to getting an entire vinyl car wrap in a different colour, as they don't offer the same self-healing properties. The other downside to a vinyl wrap is as it takes damage and rock chips, the original colour underneath starts peeking through, which you can imagine isn't so nice.
Preserving Resale Value
With XPEL Stealth, you can rest assured that your car's resale value remains intact. By safeguarding your vehicle's original paint from rock chips or imperfections, XPEL Stealth helps maintain its new appearance. If you ever choose to sell your vehicle in the future,  the value you've added in protecting the paint with the best quality matte paint protection film will be evident.
Want to remove it and unveil the protected, glossy surface underneath? We can do that! It's a bit time consuming since it's applied to last a very long time. Leave that part to the pros.
How XPEL Stealth Works
XPEL Stealth utilizes advanced technology to provide superior protection for your vehicle. Its clear, urethane-based film is expertly applied to the car's surface, forming an invisible barrier that guards against scratches, chips, and stains. The film's matte finish reduces glare and reflections, resulting in a visually striking appearance that sets your vehicle apart from the crowd.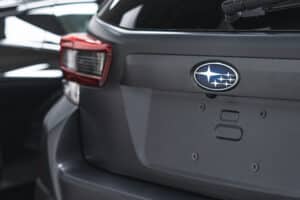 Professional Installation and Maintenance
To ensure optimal results, it's advisable to have your paint protection film professionally installed by certified installers (like us!). As the film is changing the paint's appearance, a seamless, professional install is absolutely essential.
At Liberty Autoworx, we remove the trim pieces and wrap edges of all panels to ensure there's no glossy paint visible and unprotected. In many cases, we fully customize the cuts of the PPF to ensure the most optimal coverage.
Additionally, maintaining your PPF is a breeze. Regular washing and simple maintenance techniques can keep your vehicle looking stunning for years to come.
Following installation, we invite you back to our studio for a complimentary demo wash to show you all of the best car detailing practices to maintain your paint protection film long term.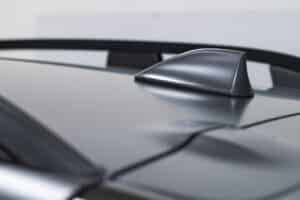 Conclusion
When it comes to protecting your vehicle while maintaining a sleek and stealthy appearance, XPEL Stealth Paint Protection Film is the ultimate choice.
With its matte finish, self-healing properties, and superior protection, it offers a seamless blend of style and functionality. Whether you're a car enthusiast looking to turn heads on the road or simply aiming to preserve your vehicle's resale value, XPEL Stealth delivers on all fronts.
Embrace the future of paint protection films and give your car the impeccable safeguard!
Contact us today for a quote on getting XPEL Stealth Paint Protection Film on your vehicle!
780-900-8685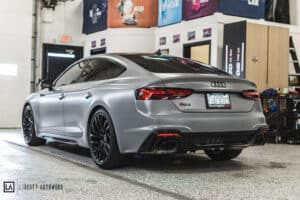 Keyphrases: XPEL Stealth, paint protection film, matte paint protection film, matte ppf, vehicle protection, urethane-based film,  car resale value, paint protection, vehicle paint protection, XPEL Stealth paint protection film, 3M, Llumar, PPF, Suntek, Edmonton