Do you want to know why it's worth paying more to get a high quality XPEL film installation? We'll take an example of an improper installation and explain what should have been done.
If you want to get a professional job done then take it to a reputable shop that specializes in that service. Many times, we hear that a customer would like to have their "3M" film installed by the dealership. (click here to read on what vehicle protection you need) Their job is to sell you a vehicle and make it look good enough for you to drive it off their lot. Don't get us wrong, some dealerships do a great job at installing film.
This Install Could Have Been Better
In this example below, you can see a low quality film installed. As you can see in the picture below, the film has swirls that cannot be removed. Don't get us started on the amount of swirls on the body of the car! A lower end film will not self-heal unlike XPEL Ultimate Plus film. The XPEL film is virtually clear as well so you do not have to worry about it yellowing.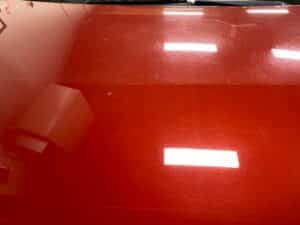 In the picture below, you can see that the edges are not straight. This is a clear sign that the film was hand cut. We use the XPEL design access program software to ensure we have the best kit for the vehicle. Sometimes, there are no kits available and we then take our time to customize a pattern. A disadvantage for hand cutting is it increases the chances of potentially cutting the paint. We've seen customer's vehicles paint cut and it resulted in needing a new paint job!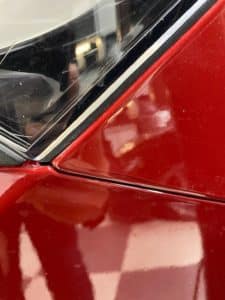 The picture below shows another flaw in this film installation. It shows another edge without a clean cut. In our opinion, it would have been better to wrap that edge completely for a clean installation.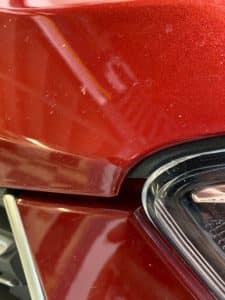 We've never seen a custom installation on a hood like the one below. It goes down at a 45 degree angle instead of continuing to the end of the hood.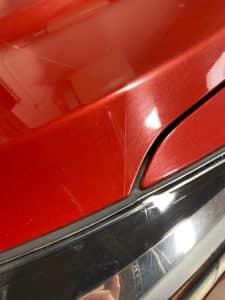 The door cup installed below does not fit well. By having a program like XPEL's, we will have a proper fitting kit that blends in.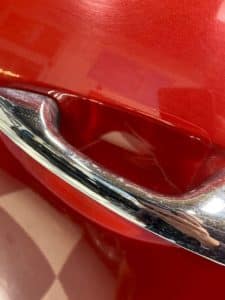 Conclusion
In conclusion, it is a great idea to pay more for a high quality XPEL film installation. The product is way better and the kits fit near perfectly. Our studio specializes in XPEL paint protection film installation and we would be happy to provide you with a quote for your vehicle. Please contact us at 780-900-8685.